Left: John Collins, to the right: Kofi Ayivor

Amsterdam, August 20, 2003 – Welcome to the second Otrabanda newsletter. Since last we met, our second baby has been born. Vintage Palmwine saw the light on April 2, 2003 when it was presented to the public and journalists in Amsterdam at the KHL coffee house. Guest of honor was producer/compiler John Collins who performed a set of acoustic palmwine highlife with a pick-up band that included Osibisa's Kofi Ayivor on percussion and "Sloopy" Mike Gyamfi on guitar and vocals.
Since its release, Vintage Palmwine has garnered positive critical response in the Netherlands, Germany, the United Kingdom and United States. We are pleased to say we have also had response as far a field as Japan for orders. And radio play in Holland (VPRO and TROS), Frankfurt (Weltbeat), Berlin (Radio Multikulti), London (it's on Charlie Gillet's pending pile, so keep an ear out on the BBC World Service and BBC London), Seattle, New York (Afropop affiliated stations) and various other US public radio stations and as far as we know reviews in Songlines. Global Rhythm, and Afropop are imminent.
We are also quite pleased to announce that Sterns Music has taken Otrabanda on for distribution in the United Kingdom and United States and our CD's can now also be ordered from their web shop at www.sternsmusic.com.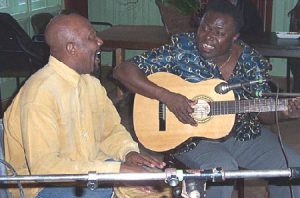 Oswin Chin Behilia
An introductory tour for Oswin Chin Behilia and his quintet has been planned in the Netherlands for the second half of October 2003 that includes venues in Amsterdam, Rotterdam, Groningen and Utrecht as well as three radio and one Dutch television gig, just before going on to Seville for the WOMEX fair. More details of the exact venues and radio and television times will soon be made available.
Oswin was heard on TROS Radio 2 Muziekcafé), program hosted by Wouter Verwey on Saturday 14 June 2003 from 4 to 6 P.M. (16:00 – 18:00 hours). Behilia's contribution is part of a program recorded "live"in the Sound Breezes café in Willemstad, the capital of curaçao featuring prominent local music artists). See www.trosradio2.nl for more details.
Also for listeners in the Netherlands and Belgium, the Otrabanda label Hhas been portrayed on VPRO's long running De Wandelende Tak, (www.vpro.nl/dewandelendetak )hosted by Walter Slosse on Monday evening 23 June 2003 on Hilversum's Radio 4.
The hour long program included an interview with yours truly as well as spin tracks from Bendishon disfrasá, Vintage Palmwine and our third forthcoming production Riba Dempel – Popular Music from curaçao 1950 – 1954, slated for release in September.
(Scott Rollins)