Amsterdam, June 2004 – Spring is well and truly sprung and we are rollicking into summer with hot news flashes. Our latest release,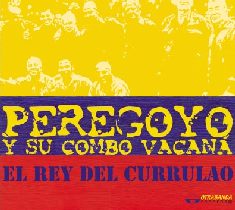 El Rey del Currulao by Colombia's world renowned Peregoyo y su Combo Vacaná has been selected for the in-house Top 10 for the July 2004 issue of Ian Anderson's distinguished Froots monthly world & roots music. This means they will play tracks on their internet radio show in cooperation with Mondomix. They are celebrating their 25th anniversary this year! We are pleased and honoured and trust the king of currulao, Peregoyo will find his way into other hearts and charts as the year progresses.
Oswin Chin Behilia, is coming to perform at this year's North Sea Jazz festival in The Hague on Sunday July 11th sharing guest vocalist duties with Izaline Calister in a Curaçoan big band project called Tumbábu led by pianist Randal Corsen who will be featuring some of Oswin's compositions in big band arrangements. "Chin" will return with his own quintet from Curaçao to play an engagement on September 23rd at Rotterdam's Theater Zuidplein and plans are afoot for a Belgian date around that time.
At the time of this writing Otrabanda is in the process of extending its distribution network to include Australia and Canada. We will make the details known when they become finalized.
The year 2004 will also mark the 65th birthday of one of Africa's most distinguished drummers – Ghana's Kofi Ayivor, a veteran of many bands who began his career playing highlife in E.T. Mensah's Tempos Band in the late 50s and who came to fame with Osibisa in the seventies before going on to lend his impressive rhythmic talents to a number of jazz, pop and world music projects.
To celebrate this milestone Otrabanda is releasing a special CD in October reflecting the diversity of his playing which includes some examples of his traditional Ewe drumming, his own Afropop compositions based on the wealth and breadth of his musical experience and various "cross-over" projects to which he has lent the rhythmic expertise and spirit of playing that have marked him out as the highly sought after drummer he is. The working title is "Have Drum Will Travel".
Scott Rollins