Launch in Cosmic Theatre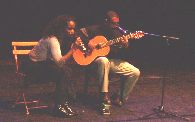 Amsterdam, November 12 th 2002 – Hi and welcome to the first of our occasional newsletters giving you the latest information about Otrabanda releases and some idea of what we have been up to.
Otrabanda was incorporated as a company in January 2002 and virtually nine months later, our first baby was born. Oswin Chin Behilia's Bendishon disfrasá (OTB01) was officially launched, together with our promotional cd single, on 24 October 2002 in Amsterdam's Cosmic Theater.

That evening Oswin sang a duet with the rising young star Izaline Calister of his compositions No Bai and Plegaria. It was the first time they had performed together and the effect was stunning. In the audience was Julian B. Coco the doyen of Dutch Antillean music and so we were pleased and privileged to have three leading exponents of three generations of Curaçaoan music in the hall. Needless, to say, after the words and music we sank a few glasses in the bar and caught up with old friends, family and made new acquaintances.
Right after the launch, my partner and I drove with Oswin directly to Essen Germany that same evening to attend the Womex world music trade fair.
WOMEX 2002 Essen, Germany 24 / 27 October 2002
The next morning the three of us were not prepared for the sight that greeted us when we arrived at the site of the trade fair. The Zollverein as the site was called was an old coal mine and steel mill that was now an industrial archaeological museum come trade fair venue. It houses a permanent exhibition of industrial design and the erstwhile coal mining and steel making activities. For the next three days we traipsed through intermittent autumnal rains from one brick building to the other that had once been factories or steel works and had now been transformed into stages, bars, exhibition halls.
Our friends Christian Scholze, Jean Trouillet and Rudy Hasselblatt at Network Medien, kindly offered us a place to cool our heels and allow Oswin to perform with his acoustic guitar at the end of our first day. The glasses of fine French red wine completed the cafe atmosphere. Before Chin started playing Otrabanda and Network Medien were interviewed first by Morgan Isenia for his Solo newspaper in Rotterdam and then Robby Schouten for his popular television series in the Netherlands Antilles known as Leu fo'i kas (Far From Home) in which he portrays the escapades of people of Dutch Caribbean descent abroad. When Chin got down to playing, among his first audience was the BBC's Charlie Gillett, who afterwards immediately arranged for Oswin to perform live the following evening from the fair on his joint broadcast on BBC London with DJ Johannes Theurer on Berlin's Radio MultiKulti.
The following day Oswin sang at Simon Broughton's Songlines stand and we were able to introduce him personally to several music journalists. On the last day Oswin was interviewed by Sean Barlow for his Afropop radio program. It now appears that international reviews of Bendishon disfrasá are forthcoming in the UK at Froots, Songlines, the US at Global Rhythm, Cliff Furnald's Rootsworld, and Afropop (see our links on the home page) so keep an eye out.
Forthcoming Releases
Before our annual sojourn to Curaçao in December, Otrabanda will be meeting John Collins and Tim de Wolf shortly to put the finishing touches on the next two Otrabanda releases scheduled for Spring 2003.
(Scott Rollins)