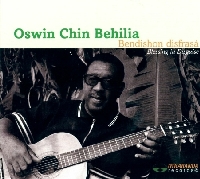 Oswin Chin Behilia belongs to that select group of singer/songwriters whose music combines memorable tunes with lyrics that reflect social and personal concerns. Mention his name to a fellow native of Curaçao in the Netherlands Antilles and his face lights up with fond recognition. Both young and old consider his song Plegaria, for instance, as the folk alternative to the national anthem, while Sunú is universally regarded as one of the classic love songs in Papiamentu, the creole language spoken on the islands of Curaçao, Aruba and Bonaire located off the coast of Venezuela.
Born on 15 December 1938, this man of many talents has led an eventful life both in and out of the world of music and was he knighted by the Queen of the Netherlands for contributions in several fields to his native island as musician, broadcaster, politician, impresario and mentor to young talent.
Oswin Chin Behilia's first band Los Tiarucos was founded in 1963. It included Yeyo Calderon who can be heard here on backing vocals and percussion. Los Tiarucos performed in the sixties and seventies at hotel and festival engagements at home and in St. Martin, Miami, New York, the Dominican Republic, Puerto Rico and Brazil, the musical influences of which can be discerned in his compositions.
Oswin Chin Behilia's songs have been covered by a host of his native island's finest musicians, some of whom include the group Serenada, Konhunto San José now known as Arnell i su orkest as well as the rising young star Izaline Calister who has interpreted Sunú, No Bai and Plegaria in jazz settings with her compatriot, the pianist Randall Corsen.
The songs selected here were taken from three studio albums which Oswin Chin Behilia released independently on his native island:
Troubadours of the World Singing Chin's Compositions, 1997
Afrikatumba, 1999
Bunita/Mahos, 2000.
Guesting on three tracks on lead acoustic guitar is Julian B. Coco, a musical giant of Curaçao in his own right. Born in 1924 this composer, arranger, producer and multi-instrumentalist, has performed regularly on European radio and television.
(Scott Rollins)
Lyrics Bendishon disfrasá:
1. Bendishon disfrasá – Blessing in disguise
2. Sunú – Naked
3. Djente Blanku Na Ta Kurason – All that glitters is gold
4. Marie I Juana – Marie and Juana
5. No Bandona Korsou – Dont Abandon Curaçao
6. No Bai – Don't Go!
7. Curaçao di nos e ta – Curaçao is ours
8. Si no ta pe – If not for her
9. Strañero den bo mes pais – Stranger in your own Country
10. Plegaria – Prayer
11. Zona mi protesta – The sound of my protest
Lyrics
Photographs