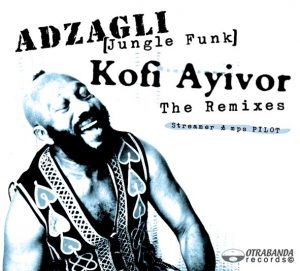 Adzagli /Jungle Funk (Kofi Ayivor) was originally released as a vinyl EP in a limited edition in 1982 in the Netherlands which Kofi recorded in 1979 at the then state of the art 24 track Island Studios in London The original track is an example of what Kofi himself jocularly referred to as "disco boogie".
The digitally remastered Adzagli (Jungle Funk) was taken from the album Rhythmology (Otrabanda Records OTB06) that collects many rare or previously unreleased tracks of Kofi Ayivor's own compositions as well as a cross-section of the incredible variety of genres to which he has lent his unique drumming talent. Remixers Streamer and mps PILOT brush up the old tune and juggle with the multi-track master of vintage (afro-sound) which Otrabanda Records provided them.
Digital release ONLY !!!
| | | |
| --- | --- | --- |
| Streamer & mps PILOT | Broken Afro rmx | 06.51 |
| Streamer | Club re-rub | 05.41 |
| Streamer & mps PILOT | Coup the Decaller rmx | 05.01 |
| Kofi Ayivor | Adzagli / Jungle Funk – The Original | 05.20 |
Adzagli is the name of Kofi's uncle who taught him to become a master drummer, the Ewe text is a humorous stringing together of proverbs.Adzagli – the Broken Afro remix Adzagli – the Broken Afro remix is a magical Afro-beat adventure of pulsating percussion on broken beats, spiced with Ghanaian spoken words of wisdom and the 70's 'get up' full vocal. The vintage disco keyboards push the groove up as the rising horn section take you "with the jungle funk" all the way to the top. This organic mix builds and builds perfectly to a powerful euphoric high. A quality hit.Adzagli – the Club re-rub big tropical club beats go up against Tama, conga and djembe master drumming as this mix lifts directly off the ground with a 70's disco Rhodes and hard super-clavi riff . Drop a monster bass line on top, add full vocal and watch the levels rise. A juicy piece of club music with broad musical appeal.Adzagli – Coup the Decaller remix this time inspired by new grooves exploding from the Ivory Coast, Streamer and mps Pilot wanted to produce a true "jungle funk" track that was indeed the "latest thing". Couper decaller- techno- carioca funk. Watch out for their fresh edgy blend of nu-world music for future travelers.Adzagli – The Original by Kofi Ayivor Kofi Ayivor; conga, clay pot drum, opening vocal & backing vocals, Uwandile (Zimbabwe); lead vocals, Dora Ifudu (Nigeria); backing vocals, Lloys Clark (Jamaica): sax, Chris Wood (ex-Traffic) ; tenor sax, Jimmy Hynes (Barbados); bass, Eddy Grant; guitar and Kiki Gyan (ex-Osibisa); keyboards. Here we come, here we go, with the jungle stuff, it will move you, stone you anywhere you want. Jungle funk, jungle funk is the latest thing it keeps you moving grooving with the funk…
The Remixers

Streamer is the studio project of producer Gary Shepherd, an Englishman living in Amsterdam. Also well-known as his DJ alter ego Alec Smart, in other guises he's made his mark on the mash-up scene, in the world of cutting-edge theatre performance and film sound tracking. He's one of the few artists who manages to combine underground credibility with up-to-the-minute style. And don't forget the otherwise so much missed irony factor. "It's got to be fun. Period." he explains. It's got to be funk, we add after hearing the music. Streamer has two albums credited to his name. His debut album Blissed became a lounge classic and was extensively licensed to the compilations like 2ManyDJs, Hotel Costes and New Testament of Funk. Streamer's new album Under A Spell has just been released, and his label KidNap Records published a remix project for the albums' hottest tunes with people like Jimpster and Dublex Inc.

DJ MPS Pilot produces a refined, yet hip mix of non-Western music and is currently renowned far beyond his Amsterdam home base. His regular gigs include resident stints at the famous Amsterdam Paradiso and Melkweg venues and the prominent annual Flemish Sfinks Festival of world music. His eclectic spinning style brought him deep into the Sahara in Mali, where he twice performed at the Festival in the Desert. Other sojourns include performances at the Jaipur Festival in Rajasthan and the Timitar Festival in Morocco. MPS Pilot weaves drum n' bass rhythms, flamenco palmas, Indian bhangra- or Desi beats, Afro-grooves and Latin percussion solos into an organic whole. His intelligent and rhythmic use of mixing techniques makes the music function as a mind opener. MPS Pilot has now launched into producing and remixing songs. Whether blending or juxtaposing traditional and urban sounds from anywhere on the map, mps Pilot is always out there, challenging your mind and moving your soul.