Launch in Cosmic Theatre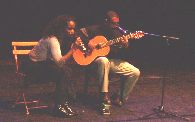 Amsterdam, November 12 th 2002 – Hi and welcome to the first of our occasional newsletters giving you the latest information about Otrabanda releases and some idea of what we have been up to.
Otrabanda was incorporated as a company in January 2002 and virtually nine months later, our first baby was born. Oswin Chin Behilia's Bendishon disfrasá (OTB01) was officially launched, together with our promotional cd single, on 24 October 2002 in Amsterdam's Cosmic Theater.